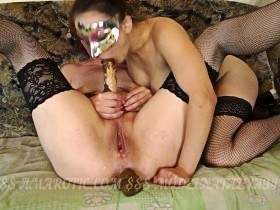 Videodetails
By: ModelNatalya94
Resolution: 1920 x1080
Runtime: 11:19 min
Size: 689.4 MB

Rating:

Number of ratings: 0
is viewed 2 time(s)
This clip was visited 40 time(s)
Published:
Description
Hello friends. In this video you will see Alisa and Marina. The girls settled down on the sofa and they were completely naked. Marina takes the rubber dildo and tells Alice that she must suck it. Alice sucks the dildo, then Alice sits on it and gets fucked. Alice gets fucked and at this time wants to poop. Alisa poops on Marina's stomach. Marina takes the poop and lubricates the dildo and Alisa continues to suck the dirty dildo and swallow the shit. Marina also pooped and also smeared the dildo with her shit, and Alisa sucked and swallowed both her own shit and Marina's shit with the dildo.
More Videos from ModelNatalya94
Show all