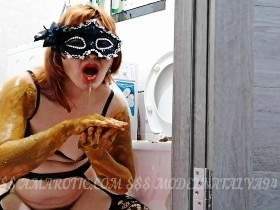 Videodetails
By: ModelNatalya94
Resolution: 1920 x1080
Runtime: 13:42 min
Size: 973.7 MB

Rating:

Number of ratings: 0
is viewed 1 time(s)
This clip was visited 22 time(s)
Published:
Description
Hello my dear fans. In this video you will see Olga in the toilet room. Olga takes off her panties and stands over the toilet. Olga poops and you will see how the poop falls into the toilet. Then Olga sits down near the toilet and begins her game with poop. Olga takes the poop out of the toilet and places it on the rim. Then Olga smears the poop all over her hands. When her hands were completely covered with poop, Olga licked the shit from her hands. You will see how much pleasure Olga gets from eating her own shit. I hope you also get a lot of pleasure from watching this video and release sperm from your penis in a violent stream.
More Videos from ModelNatalya94
Show all