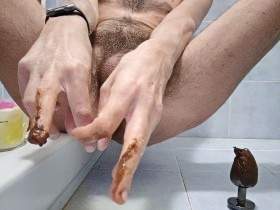 Videodetails
Resolution: 1920 x1080
Runtime: 4:33 min
Size: 652.7 MB

Rating:

Number of ratings: 0
is viewed 0 time(s)
This clip was visited 7 time(s)
Published:
Description
My butt plug comes out of my ass with a nice piece of shit attached. Well! My anus is full of shit so I slip my fingers in and they come out dirty too! Can't miss a good piss on the floor!
More Videos from SalvatrixCrucifix
Show all